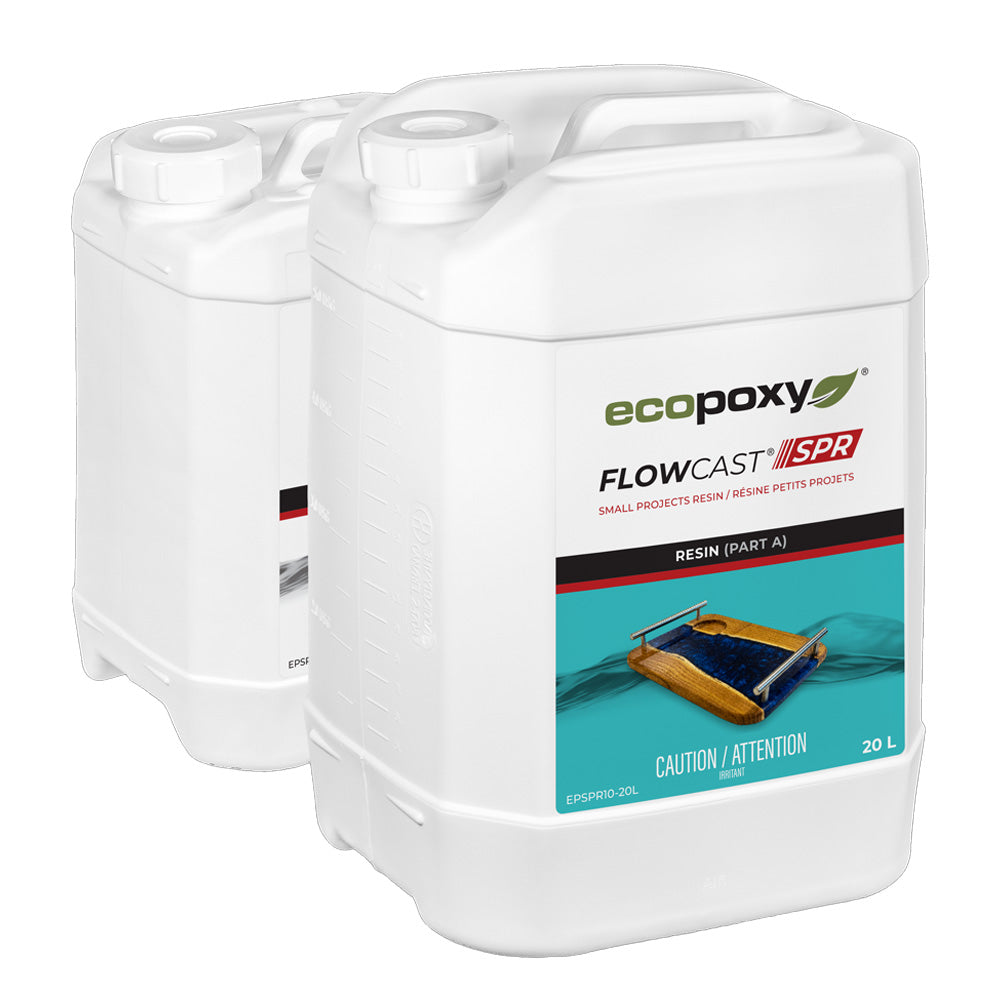 Double click image to zoom in
EcoPoxy FlowCast SPR Bulk (30 L)
Have questions? Give us a call at 260-637-0054.
Meet the premium casting epoxy for small projects.
FlowCast SPR is a two-component casting epoxy formulated for weekend woodworking projects. When used at 1" thickness, the maximum volume, and under the recommended conditions, you can expect your projects to cure within one day.
Use FlowCast SPR epoxy by itself for a water-clear finish or add liquid or metallic pigments to create custom colors and effects. FlowCast SPR can be used to create beautiful small scale live edge wood projects, such as coasters and serving trays. FlowCast SPR can be worked (trimmed, routed, sanded, and finished) using the same tools you have in your woodshop.
With the ability to cast from 1/4" to 1" thick per layer in pour volumes up to 2L, FlowCast SPR is perfect for small scale live edge wood projects. It has been formulated to cure faster, making it the ideal casting epoxy for weekend projects.
FlowCast SPR's low viscosity provides excellent air release allowing trapped air to rise to the surface, significantly reducing bubbles in the cured casting. It cures to a highly desired transparent water-clear appearance. It can also be combined with Liquid and Metallic Color Pigments, and Polyester Color Glitters to create custom hues, tints, shades and effects.
Be sure to check out any accessories you need, like the V-Notched Spreader, mixing sticks and pots, and safety gloves!
Used to create:
Serving trays
Drink coasters
Decorative art pieces
Small encapsulated objects
Other small scale live edge wood projects
Helpful tip: For larger projects, such as river tables, we recommend FlowCast Deep Pour.
Also available in smaller sizes.
Perfect for Small Project Pours –1/4" " to 1" Thick per Layer
Ideal for Weekend Projects – Formulated for Easy Pours and Faster Cures
Goodbye Bubbles – Excellent Air Release
Hello Clarity - Cures Water Clear
Extremely Low Odor
Workable with Common Woodworking Tools
Significant Bio-Based Content
Mix Ratio: 2:1 by volume, 2.5:1 by mass
Recommended casting thickness: 1/4" to 1" (6 mm-25 mm)
Working Temperature: 20-25ºC (68-77ºF)
Working Time (1" pour): 4-5 hours
Working Time (1/2" pour): 6-7 hours
Demolding Time (1" pour): 24 hours
Demolding Time (1/2" pour): 40-48 hours
Full Cure (1" pour): 3 days
Full Cure (1/2" pour): 7 days
Viscosity (Thickness): Initial Mixed Viscosity at 22ºC (72ºF) is 410 cP
Cure Appearance: Water Clear
Pigments Can Be Added: Yes
Clean Up: Denatured/isopropyl alcohol or warm soapy water