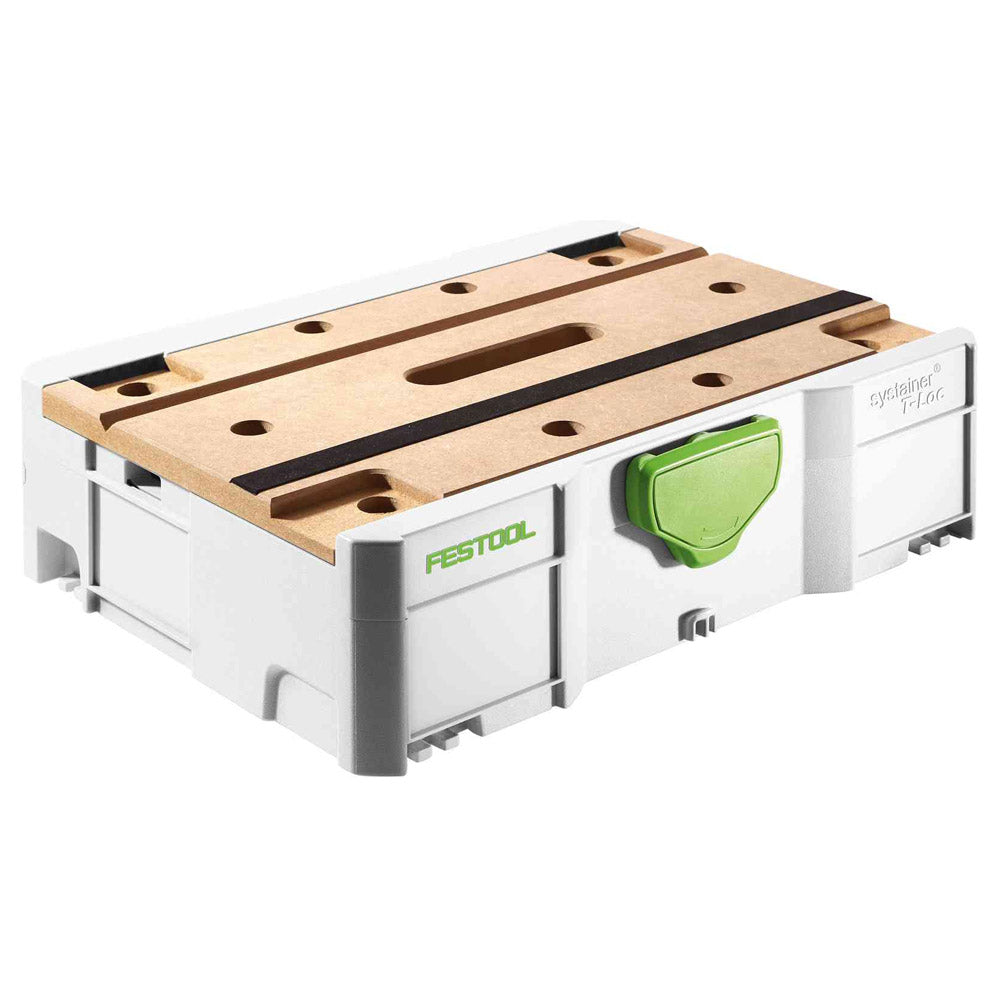 Double click image to zoom in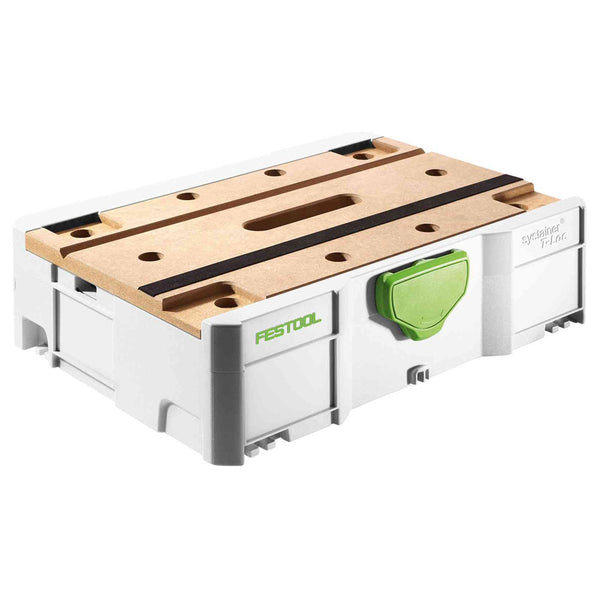 Have questions? Give us a call at 260-637-0054.
Improve the way you work while making it more convenient to get the job done.  Safely secure your workpiece for improved results with the most portable work-surface that provides multiple clamping points. The Festool SYS-MFT brings worktable functionality to a highly portable surface. The SYS-MFT also provides storage for all your key tools like clamps and hand tools.
Equipped with 13 clamping points,  an integrated V-groove for securing round stock like dowels and pipes, a non-skid strip for even greater security of the workpiece, and a slotted handle for easy transport.   The SYS-MFT is the same size as a Systainer SYS 1 so you can use Systainers side-by-side for an extended work surface.  The robust and durable design will support up to 110 lbs (50 kg).  The SYS-MFT also integrates with both T-LOC as well as Classic Systainers and Sortainers.
MDF consumable top – flat, durable, and takes the beating – not the tools. User-replaceable

Integrated V-groove – Traps round stock like dowels and pipes for secure clamping.

Integrated non-skid strip – Prevents workpiece movement during work. User-replaceable

SYS 1 height – Allows for extended support work surfaces by using other SYS 1 SystainerS

110 lb (50 KG) capacity – Strong enough for the toughest loads

Storage – It's still a Systainer! Holds clamps and tools for improved storage, transport, organization and protection

1 cover for label field

Can be connected to the entire Systainer range (except SYS-MINI)

Simple, compact transportation

Cover with MDF board for clamping and fixing workpieces

Versatility - A truly versatile work surface with 13 clamping points, integrated V-groove channel, and anti-skid strip provides multiple ways to secure virtually any material
Functionality - Store, transport, and protect your essential items while also keeping on hand an extremely adaptable clamping platform and work surface. Part of the broader system, it works with Screw Clamps, Quick Clamps, and Clamping Elements, helping you do more with less
Portability - Durable and functional, the SYS-MFT connects to Systainers and CT Dust Extractors to go everywhere you need it. The SYS-MFT is the ultimate go-anywhere work surface
Weight: 4.41 lbs. (2 kg)
Dimensions (L x W x H): 15-1/2" x 11-1/2" x 4-1/8" (396 x 296 x 105 mm)