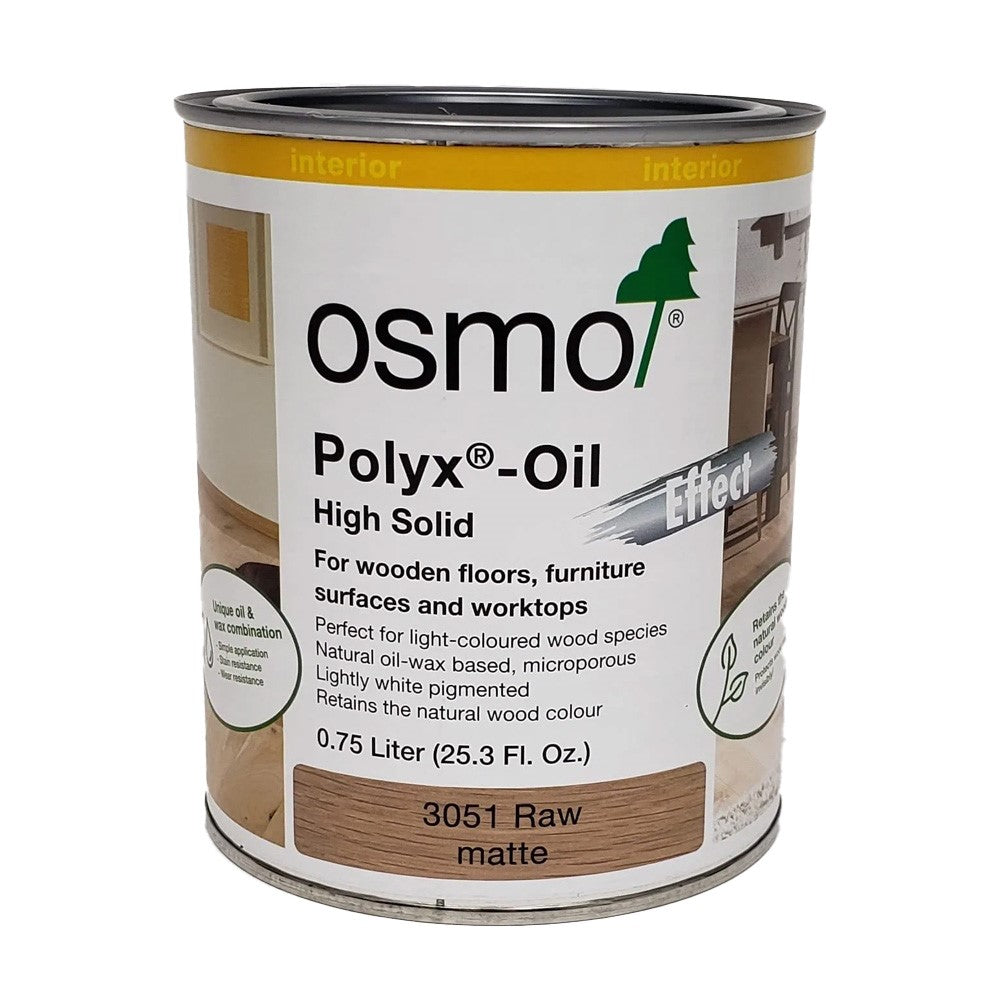 Double click image to zoom in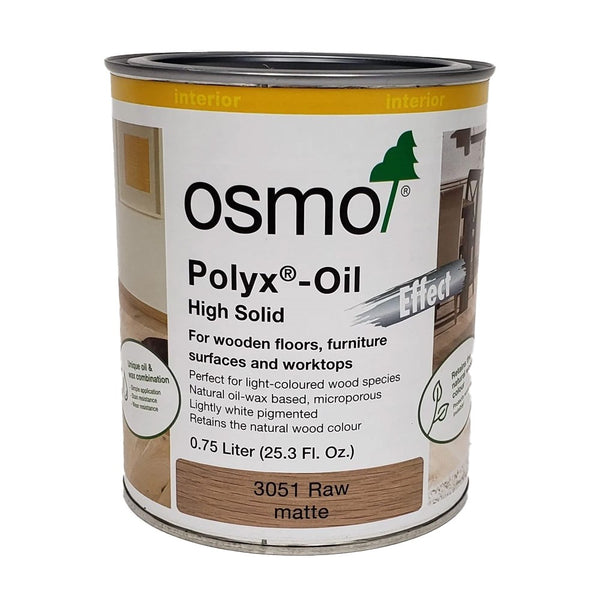 Osmo Polyx-Oil Raw - 0.75L
Have questions? Give us a call at 260-637-0054.
Osmo Polyx-Oil Raw is designed to retain an untreated appearance on light colored woods such as Oak, Ash, Birch, and Maple. It neutralizes the permanent "wet-look" that develops after the application of a clear oil-based finish and keeps the wood looking raw and untreated. Based on natural vegetable oils and waxes.
This finish is derived from natural vegetable oils and waxes. Resistant to water, dirt, beer, wine, cola and saliva, Osmo Polyx-Oil Raw is microporous and molecularly bonds with the wood, meaning it does not crack, flake, peel or blister.
The advanced formula of Polyx-Oil has been specially engineered in Germany to be the first Hardwax-Oil available on the North American market that can be easily applied with a brush or roller, with no buffing necessary! Can be spot-repaired and/or restored/renewed with no sanding required, therefore wood never needs complete sanding and refinishing again.
For a wet look, use Osmo Polyx-Oil Original Matte, Gloss, or Satin.
Don't forget your brushes and pad!
Easily applied with a brush, roller, buffing pad, or cloth
Can be spot-repaired and refreshed without sanding
Excellent water resistance. Suitable for kitchens, bathrooms, and other rooms exposed to high humidity
Microporous finish which does not crack, peel or flake
Resistant to wine, beer, cola, coffee, tea, fruit juice, milk and water
Saliva-resistant and sweatproof
Safe for humans, animals and plants and is suitable for children's toys
Approx. coverage: 258 sq. ft./L
Number of coats: 2 coats
Application temp.: 41°F - 95°F (5°C - 35°C)
Approx. dry time: 8-10 hours*


*Lower temperatures and/or higher air humidity can increase the drying time. Ventilate well while drying.
Stir the Polyx-Oil well and pour into tray
Work the product into the wood thinly and evenly in figure 8 or circular motions using the fleece applicator pad
Be sure to thinly and evenly coat the surface and leave on the surface for approx. 5 minutes
Allow approx. 8-10 hours drying time. Allow for good ventilation whilst drying
Apply second coat following previous steps.
Directions (Brush/Roller)

First Coat: Apply one thin coat with an Osmo Floor Brush or Osmo Floor Roller. Our rollers have a 4.5mm nap.


Stir the Polyx-Oil well and prior to use
Brush or roll the product thinly and evenly onto the floor
Do not remove excess product, this will absorb into the wood surface over the drying period
Allow 8-10 hours drying time prior to proceeding to second coat

Second Coat: Roll or Brush a thin second coat.


Brush or roll the second coat thinly and evenly onto the floor
Allow approximately 5-10 minutes for product to penetrate surface
Allow 8-10 hours drying time. Allow for good ventilation whilst drying

Third Coat: Usually a third coat is not required, however highly absorbent or dry timbers may appear to require a third coat.

Please consult OSMO technical support at 1-844-OSMOCAN prior to carrying out a third coat

Tinting: Osmo Wood Wax Finish can also be used to lightly tint Polyx-Oil 3054 up to a ratio of 10:1. Do not exceed a ratio of 10 parts Polyx-Oil 3054 to 1 part Wood Wax Finish.

Cure Period: Osmo Hardwax-Oil(s) like all floor finishes have a cure period. We recommend allowing 2 weeks for the surface to fully cure and harden prior to damp-mopping or placing rugs/mats on the surface.