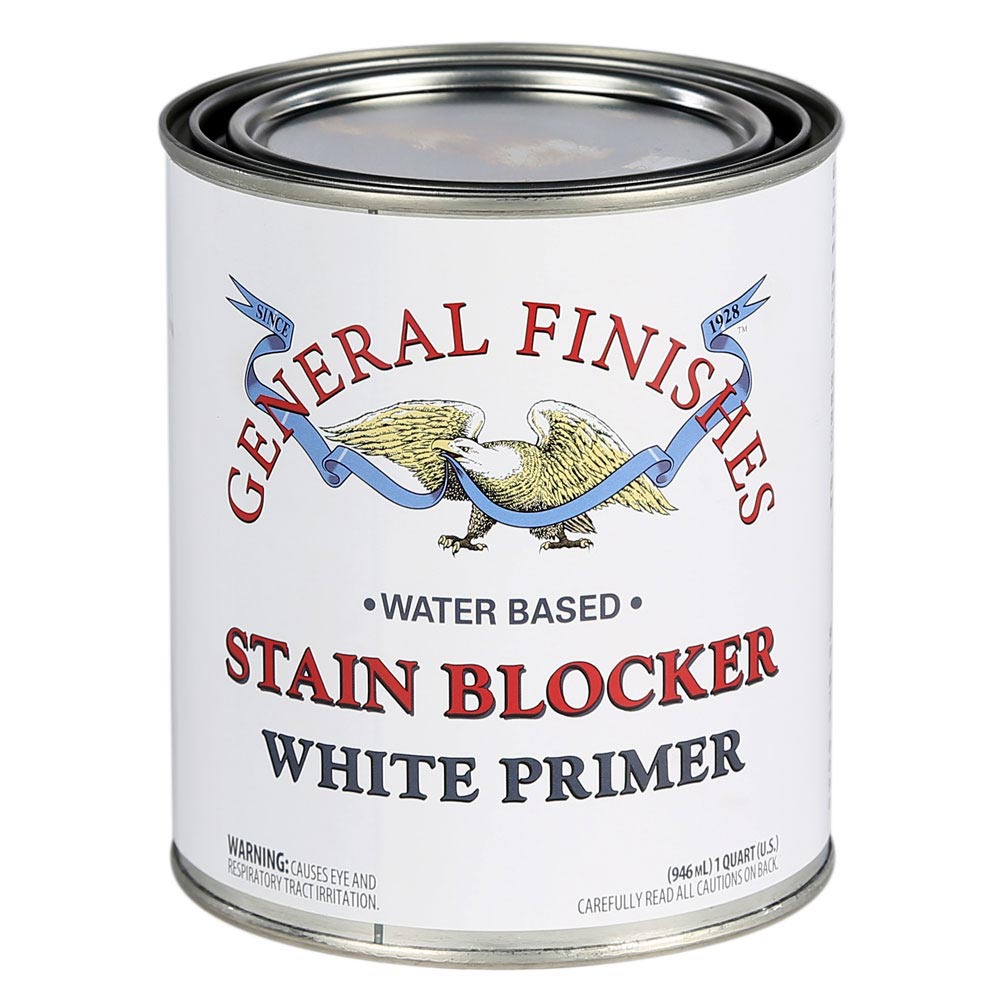 Double click image to zoom in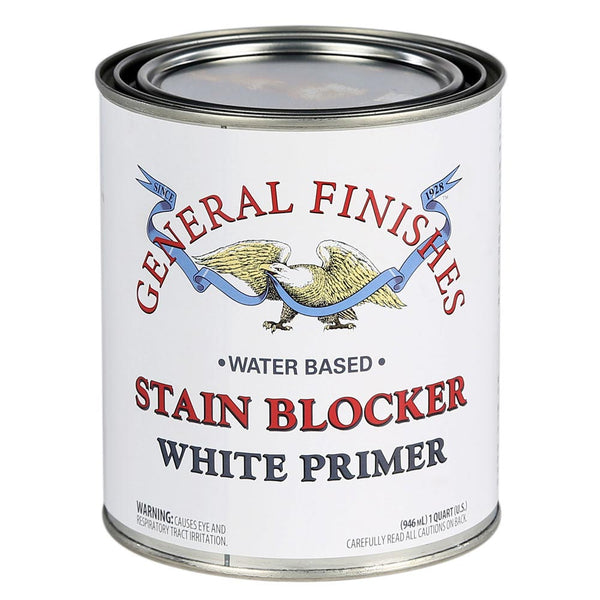 General Finishes Stain Blocker - Quart
Have questions? Give us a call at 260-637-0054.
Stain Blocker is General Finishes' revolutionary water-based stain-blocking primer for interior projects. Stain Blocker can be used to protect pigmented finishes from stain, dye, and wood tannin bleed-through. Brush or spray over an existing finish, raw wood, or MDF as a base coat for light-colored General Finishes Milk Paint and Pigmented Polys. 
This primer has a sophisticated resin system and an atypical formulation. Use on pieces where you are concerned about bleed-through. For DIY customers or professionals painting a surface any shade of white or light gray, look no further than General Finishes Stain Blocker.
Also available in gallons.
Don't forget your brushes and sandpaper!
Note: Do not thin Stain Blocker with anything but distilled water. Do not add more than 5% distilled water. Do not use water-based products with Linseed Oils or Danish Oils.
Base Type: Water
Interior or Exterior: Interior only
Type: Stain Blocking Primer
Tintable: No
Coats: 2 coats
Application Method: Brush, Roll, Spray
Usable over existing finishes: Yes
Spray Tip Sizes: HVLP 1.8-2 mm
Dry Time - Recoat: 2+ hrs.
Coverage: 125-150 sq. ft.
Viscosity: Thick
Raw Wood


Sanding Schedule: 120-grit followed by 150- or 220-grit
Remove dust with a water-dampened rag or oil-free tack cloth.
Let dry completely before applying GF product.

Sealed Surface


Scuff clean with a non-woven abrasive pad and a 50:50 mix of denatured alcohol and water. Dry 1-2 hours. Avoid cleaning with products containing phosphates (salt), which can linger in the substrate and produce a white haze.
Sand lightly with a fine-grade (220-320) sanding pad.
Remove dust with a vacuum, compressed air, an oil-free tack cloth or a water-dampened rag.
Let dry completely before applying General Finishes product.
Work in a well-ventilated area.
Stir thoroughly to reincorporate solids that have settled to the bottom of the can before and throughout the application process.
Test for adhesion over existing finishes and test entire finishing process. Not all bleed-through can be prevented with primer.
Do not mix or tint with paint, stain, or topcoat as contamination from other finishes will cause product failure.
Thin with caution up to 5% with water only. Over-thinning will reduce the stain blocking properties.
Rinse applicators & spray guns with water immediately after use.
Apply 2 coats.
Hand application: Apply using a synthetic bristle brush, foam brush, pad applicator or roller with smooth, even strokes.
Spray application: Before spraying, strain paint through a medium-mesh filter. Spray wet films at 3-5-mil thickness. HVLP: 1.8mm-2.0mm spray tip, medium air cap. Verify tip sizes with your equipment supplier. See our spray tip size recommendations here. Keep your gun at a 90° angle, 6-8" from the surface. On large, flat areas, use wet, even patterns 6-8" wide. For narrow surfaces, reduce the fan pattern to 2-3" wide to reduce overspray. Overlap each pass 25% to conceal lines. Wear a full filter (NIOSH/MSHA approved) respiratory & eye protection and work in a ventilated space. Visit this FAQ for more information on spraying techniques.
Face frames on cabinets: Stain Blocker can be applied successfully to cabinet face frames, edges or drawers with a brush, pad applicator or small cabinet-specific roller such as Whizz or AllPro brand.
Finish sand between coats with a 220-320 grit sanding pad to improve smoothness and adhesion. Do not use conventional steel wool.
Remove dust with a vacuum, compressed air, an oil-free tack cloth or a water-dampened rag.
Increase dry time if:

Humidity is over 80%
Cooler Temperatures
Thick coats are applied
Applying over products from other brands
Layering General Finishes water- and oil-based products:

Water over oil: Let oil-based products dry 72+hrs before applying water-based products
Oil over water: Let water-based products dry 24+hrs before applying oil-based products