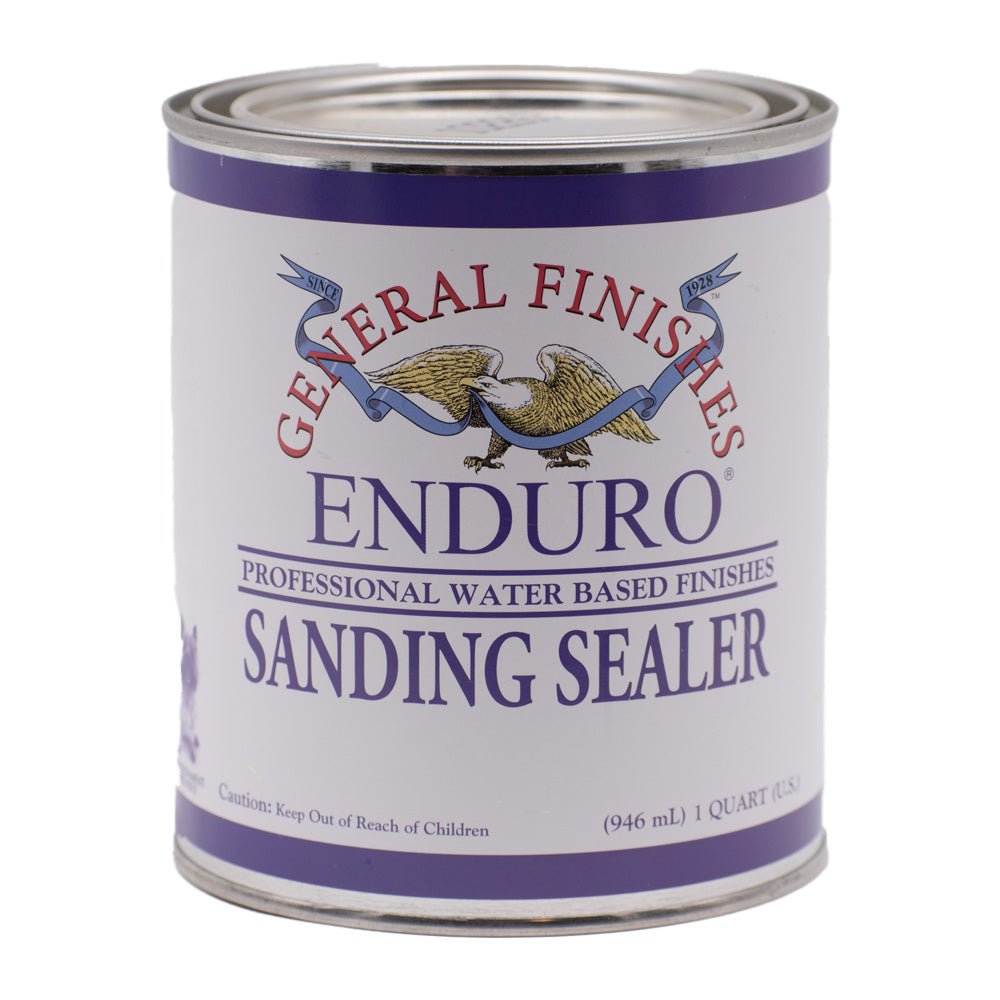 Double click image to zoom in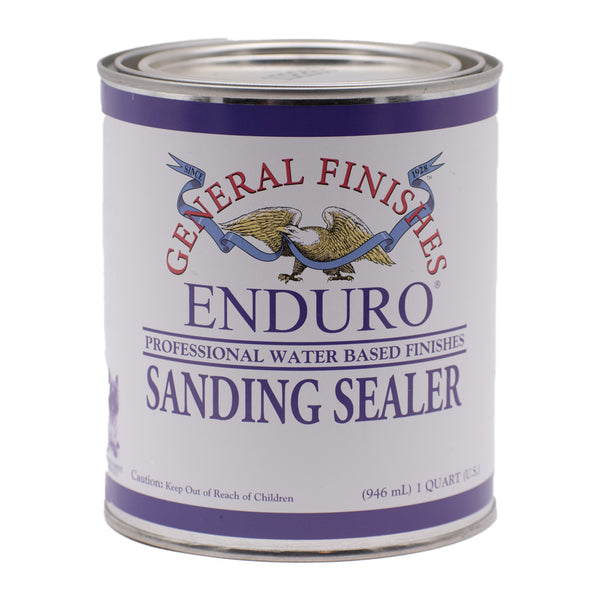 General Finishes Enduro Sanding Sealer - Quart
Have questions? Give us a call at 260-637-0054.
General Finishes Enduro Sanding Sealer is a clear, water-based acrylic undercoat with strong adhesion that forms an easily sandable foundation for your project. It provides initial sealing for all water based topcoats and can be used over raw wood or a stained surface. This fast-drying pre-catalyzed sealer is designed as a basecoat for General Finishes topcoats. It's high solids content builds a fast film. Engineered for cabinets & millwork, it can be brushed, rolled, or sprayed. Dries tack-free in 5-10 minutes in ideal conditions.
There are four benefits to using sanding sealer as the first seal coat prior to topcoat:

Faster production time. Sanding sealer is a softer finish designed for faster sanding and faster drying.
Save money - it costs less than topcoat if your project warrants purchasing a third product.
The film builds (thickness) faster because the particle size is larger.
It has strong adhesion properties. It does not stop tannin or dye bleed through, but it definitely improves adhesion.
However, it only makes sense if your project is large enough to warrant the purchase of a third product or you are a professional volume user.
Sanding Sealer is not as durable as General Finishes topcoats, so it is not recommended for a final finish.
Don't forget your brushes and sandpaper!
Product Colors: Water White in can (dries clear)
Base Type: Water
Ambering: No
Sheen: Gloss (80+)
Interior or Exterior: Interior only
Tintable: Yes
Type: Acrylic
Coats: 1 - 2 coats
Application Method: Spray
Usable over existing finishes: Yes
Spray Tip Sizes: HVLP- .043-.051 Medium Air Cap
Topcoat Required: Yes
Dry Time - Touch: 20+ min.
Dry Time - Recoat: 2+ hr
Dry Time - Light Use: 7-10 days
Coverage: 100-125 sq. ft.
Viscosity: Medium
Durability (Highest, High, Medium, Low): Medium

Raw Wood

Sand no finer than 220 grit.
Remove dust.

Sealed Surface

Scuff clean with a non-woven abrasive pad & 50:50 mix of denatured alcohol & water.
Dry 1-2 hours.
Sand lightly with 220-320-grit sanding sponge.
Remove dust.
Work in a well-ventilated area.
Stir Enduro Sanding Sealer thoroughly to reincorporate solids that have settled to the bottom of the can before and throughout the application process. Do not shake.
Test for adhesion when applying over an existing finish.
Thin as desired with distilled water; start with 5%, adding up to 10% by volume.
Increase open time, if needed, with10-15% General Finishes Extender if allowed by local regulations. GF Extender will improve flow and leveling and increase open time, which is helpful in dry climates. California Residents: Adding more than 2% of GF Extender will make the products non-compliant per SCAQMD Regulations. GF assumes no liability for the improper use of these products.
Apply 1-2 coats. We recommend no more than 2 coats.
Hand application: Enduro Sanding Sealer is engineered to spray but can be applied successfully applied by hand. Apply a liberal amount using a synthetic bristle or foam brush, pad applicator, or roller with smooth, even strokes & light lap lines. Avoid heavy pressure & back-brushing. Lap lines will tighten down as they dry.
Spray Application: Ready to spray from container. Before spraying, strain topcoat through a fine-mesh filter. Spray wet films at 3-5-mil thickness. Medium air cap. Compressed air: .040, HVLP: .043-.051 or Airless: .009-.123 . Verify tip sizes with your equipment supplier. Keep your gun at a 90° angle, 6-8" from the surface. On large, flat areas, use wet, even patterns 6-8" wide. For narrow surfaces, reduce the fan pattern to 2-3" wide to reduce overspray. Overlap each pass 25% to conceal lines. Wear a full filter respirator (NIOSH/MSHA approved) and work in a ventilated space. Finish sand between coats with a fine-grade (220-320) foam sanding pad or 400-grit sandpaper to improve smoothness and adhesion.
Sand lightly between coats with 220-320-grit sanding sponge.
Remove dust with a vacuum, compressed air, an oil free tack cloth or water-dampened rag.
Apply topcoat.