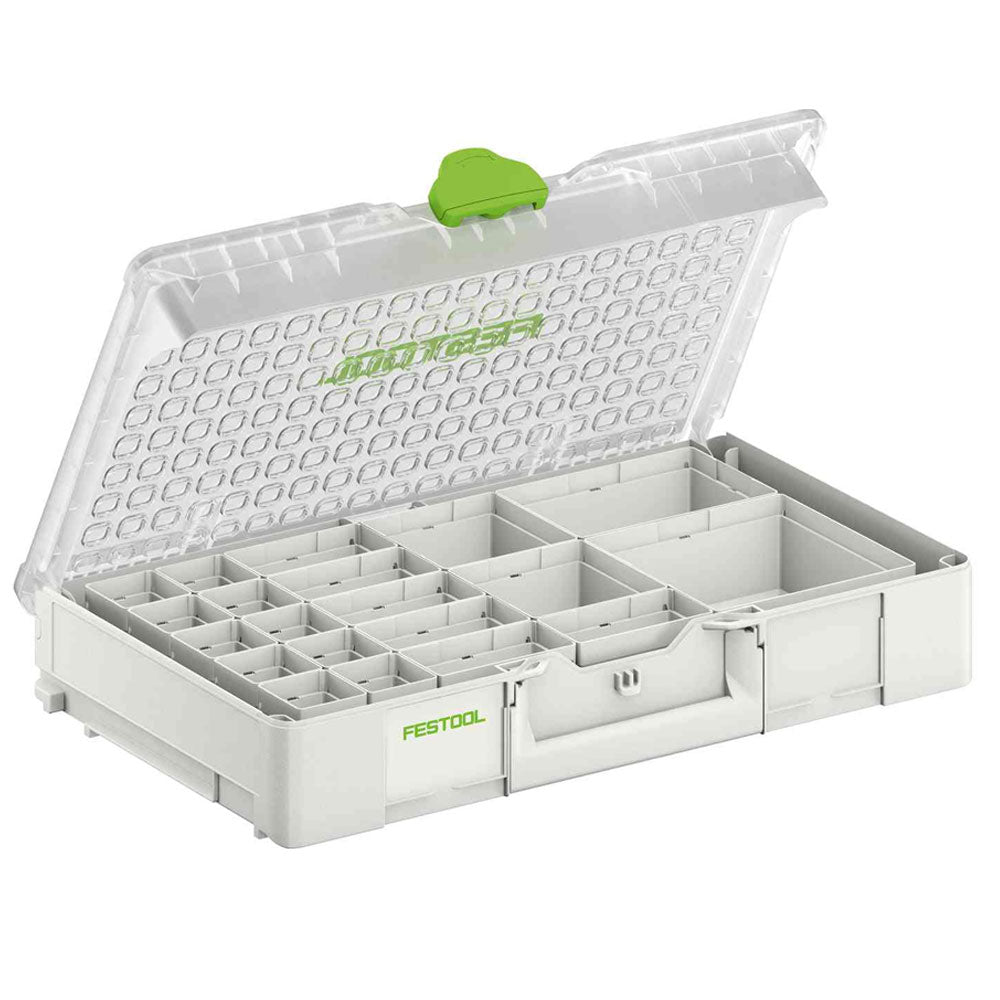 Double click image to zoom in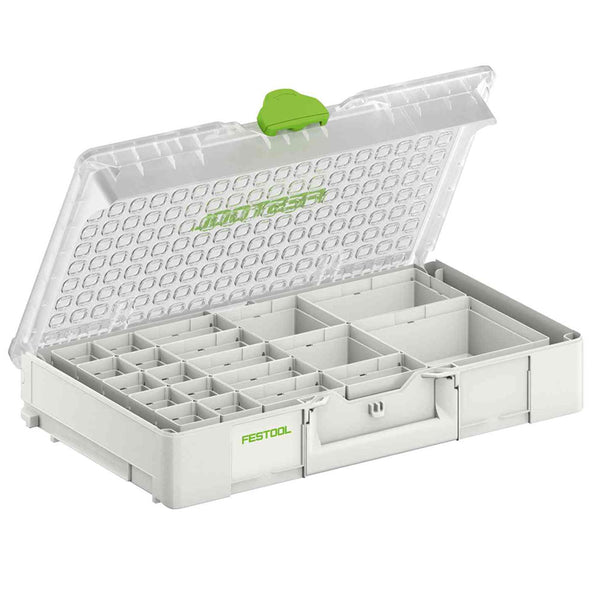 Festool Systainer³ Organizer SYS3 ORG L 89 20xESB
Have questions? Give us a call at 260-637-0054.
A proven systainer storage system for the organization and transportation of hand tools, accessories and consumables with a transparent lid. This systainer has a broader base for even more space. 
Efficiently organized: Transport and find small parts more easily thanks to the individually configurable plastic containers and clear lid.
Simply practical: Tools, accessories and consumables are optimally protected, clearly stored and easy to transport in the Systainer³. Thanks to the established T-LOC operating element, it can be closed, opened and connected in a single movement.
Systems get it done: Systainer³ products are compatible with one another and can be connected to all previous Systainer generations, mobile dust extractors and many other system accessories.
Variable separation: Small parts can be sorted individually thanks to plastic containers in seven different sizes
Perfectly organized: The labelling panels on the plastic containers ensure improved organization and an overview
A tidy storage system: Organizer units can be connected to each other, to Systainer units and to many other system accessories
An organized clear view: Thanks to the transparent lid, you can find the right accessories at a glance
Ergonomic transportation: The front carrying handle allows for ergonomic carrying close to the body. For Systainer³ M 112, M 137, M 187 and L 137
Weight 5.95 lbs. (2.7 kg)
Load capacity 44.1 lbs. (20 kg)
Inner dimensions (L x W x H) 19.7" x 10.9" x 2.4" (501 x 278 x 60 mm)
Lid load 220.5 lbs. (100 kg)
Dimensions length x width 20" x 11.7" x 3.5" (508 x 296 x 89 mm)
Volume 2.56 gal (9.7 l)
(1) SYS3 ORG L 89 20xESB
(10) plastic containers 50 x 50 x 68
(6) plastic containers 50 x 100 x 68
(2) plastic containers 100 x 100 x 68
(1) plastic containers 100 x 150 x 68
(1) plastic containers 150 x 150 x 68
(1) cover for label field