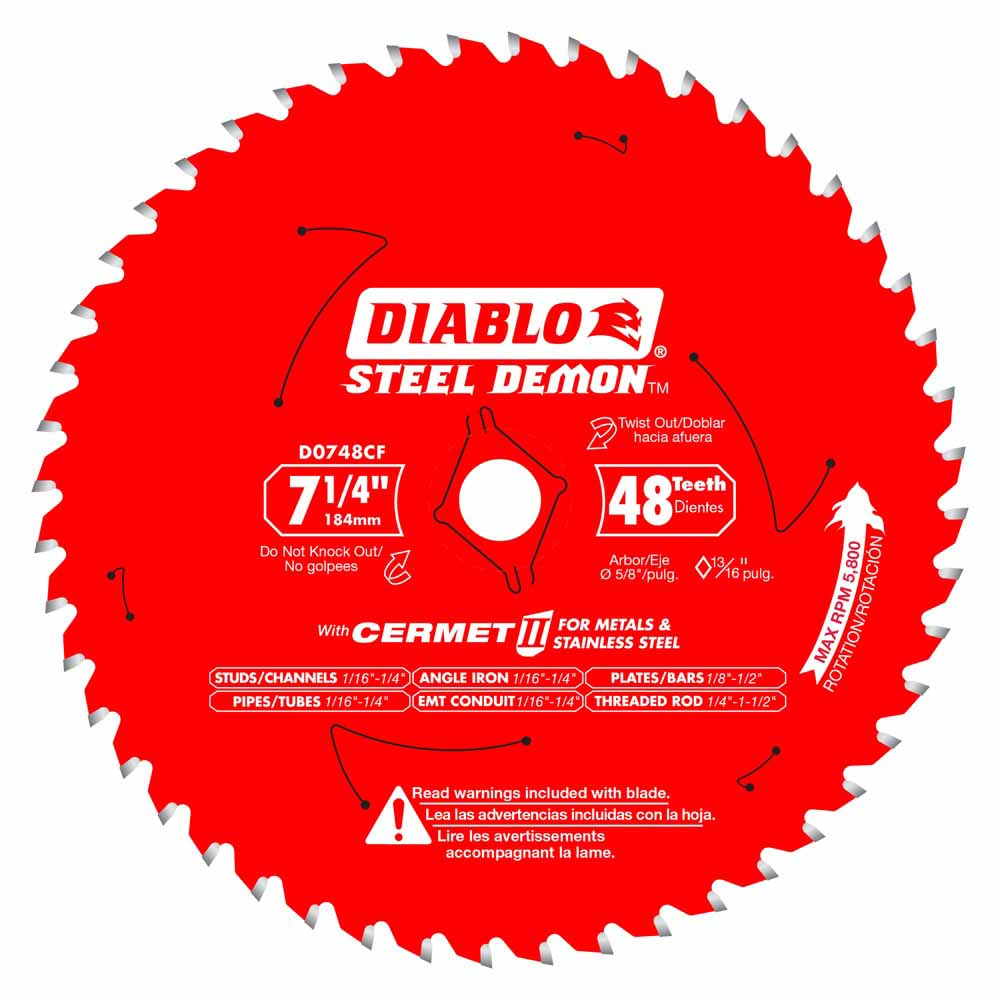 Double click image to zoom in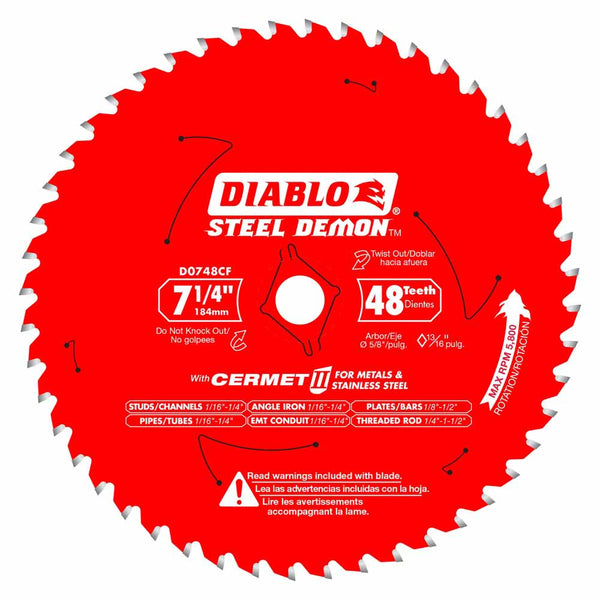 Diablo 7-1/4" x 48T Steel Demon Cermet II Saw Blade for Metal/Stainless Steel
Have questions? Give us a call at 260-637-0054.
Diablo's Steel Demon Cermet II saw blades are redefining metal cutting, and the jobsite, by introducing exclusive innovation for cutting metals and stainless steels with a cordless or corded circular saw. The specially formulated Cermet II teeth provide high heat tolerance and increased hardness for superior wear and life delivering up to 25X longer life, 50X cooler cuts and 10X faster cuts when compared to standard grinding discs.
Featuring a special Triple Chip Grind and Perma-SHIELD® coating, these blades slice through the toughest of metals to produce precise, burr-free cuts with less sparks. A controlled cutting action produces larger chip sizes that generates less dust and airborne contaminates. The ability to cut through both metals and stainless steels eliminates the need for individually dedicated saw blades, offering a one-blade solution for the ultimate metal cutting performance and an unmatched value.
Ideal for Steel Studs/Channel, Angle Iron, EMT Conduit, All-Thread with thicknesses of Studs & Tubing (Wall thickness 1/16" (16 gauge) min 1/4" max); Plates & Bars (Thickness 1/8" (11 gauge) min 1/2" max); RODS (Diameter 1/4" min 1-1/2" max).
Cermet II (Ceramic and Metallic) teeth deliver a more efficient and productive metal cutting solution through high heat tolerance and increased hardness for superior wear, fewer blade changes and up to 25X longer life versus standard grinding discs
Up to 50X cooler cuts with a circular saw blade when compared to a grinding disc that increases temperature of steel by up to 500 degrees. Grinding discs increase the temperature enough to permanently discolor the steel.
Up to 10X faster cuts with a circular saw blade for maximum productivity and efficiency, resulting in up to 60 seconds faster cuts in both metals and stainless steels versus standard grinding discs
Triple Chip Cutting action reduces sparks and the possibility of needing "hot" permits
Optimized blade design reduces wandering and deflection of metal, creating precise cuts that require virtually no re-work
Advanced Laser Cut Stabilizer Vents trap noise and vibration for maximum stability, keeping the blade cool for straight, accurate cuts
Tri-Metal Shock Resistant Brazing, a three-metal brazing system, allows Cermet II teeth to withstand extreme impact for maximum durability
Laser Cut Thin Kerf Design provides less resistance and heat build-up for ease of cut, accuracy and long cutting life in cordless or corded saws
Perma-SHIELD® coating resists heat build-up by protecting the blade against gumming and corrosion
Laser Cut Arbor reduces vibration and premature wear for accurate blade rotation when in use
Circular saw blades create a controlled cutting action resulting in larger chip sizes that generates less dust and airborne contaminates versus standard grinding discs
Compatible with cordless and corded circular saws
Arbor: 5/8"
Diameter: 7-1/4"
Hook Angle: 2°
Kerf: 0.075"
Plate: 0.063"
Teeth: 48 TCG
Max RPM: 5,800