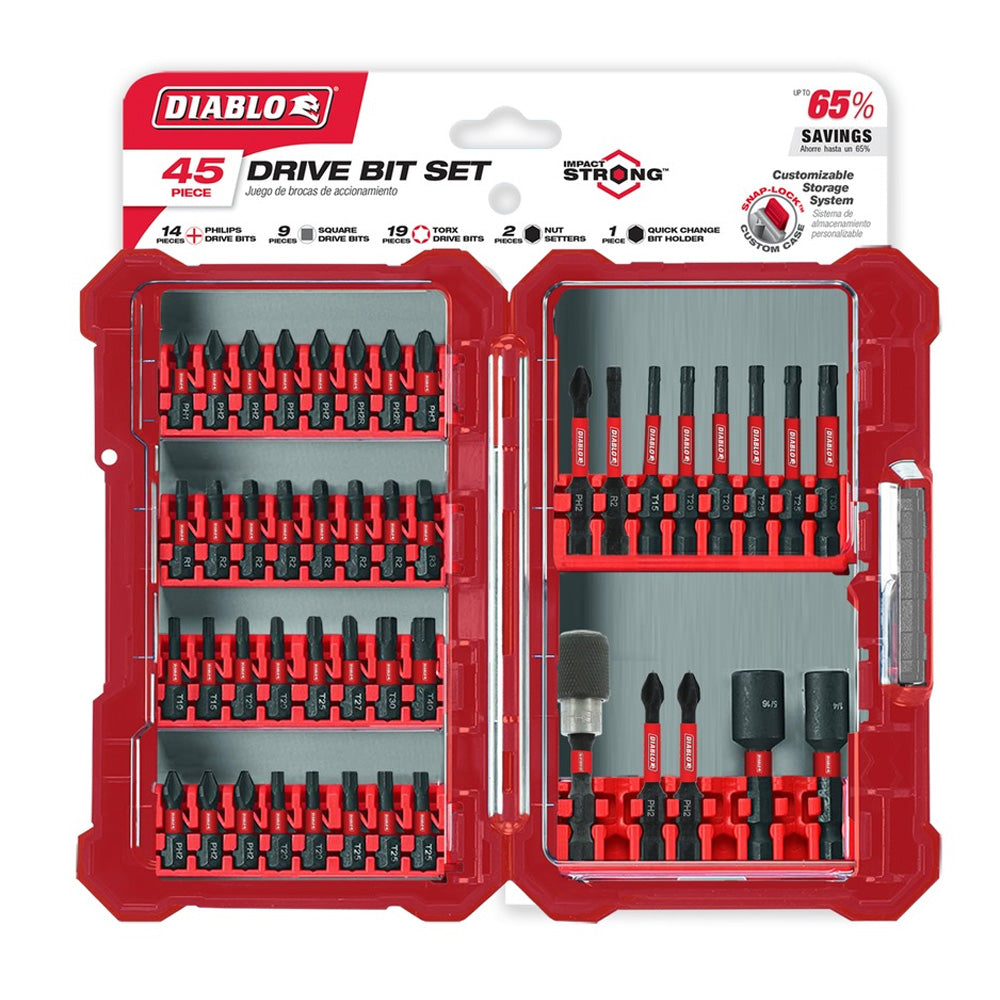 Double click image to zoom in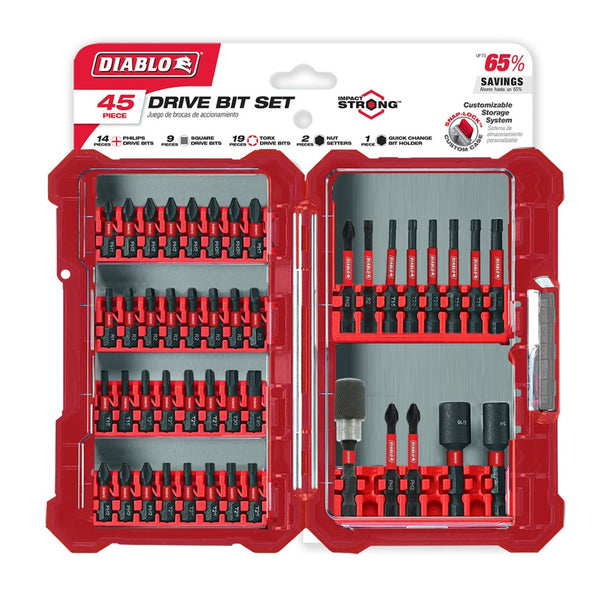 Diablo Screwdriving Set (45 Piece)
Have questions? Give us a call at 260-637-0054.
Diablo's hi-performance screw driving set delivers extreme durability and longer life in the installation and removal of fasteners. The included drive bits have an optimized tip design to provide a strong, precise grip that reduces wear, stripping and slippage.
The magnetic nut setters and drive bit holder are designed with a high-strength, permanent magnet for a secure, anti-wobble grip when fastening screws and nuts. Torque Resistant Design absorbs torque for less stress at the tip. This set is Impact Strong™, delivering increased shank stability and durability in cordless and corded impact and drill drivers.
45-piece set for up to 60% savings
Extreme durability and impact resistance for up to 50X longer life versus standard drive bits
Optimized bit tip design reduces wear, minimizes breakage and prevents slippage
Magnetic nut setters and drive bit holder includes a permanent magnet to eliminate wobbling by securely gripping screws and hex nuts
Torque Resistant Design for less stress on the bit's tip and the bit holder
Optimized tip design reduces wear, minimizes breakage and prevents slippage
Impact Strong™ increases shank stability and durability
Rust protection coating for superior wear and corrosion resistance
Laser engraved for easy identification
Optimized heat treatment process strengthens the bit for impact resistance and stability
(1) 1" #1 Phillips Drive Bit
(7) 1" and (3) 2" #2 Phillips Drive Bits
(2) 1" #2 Phillips Reduced for Drywall Screws Drive Bits
(1) 1" #3 Phillips Drive Bit
(1) 1" #1 Square Drive Bit
(6) 1" and (1) 2" #2 Square Drive Bits
(1) 1" #3 Square Drive Bit
(1) 1" #10 Torx Drive Bits
(1) 1" and (1) 2" #15 Torx Drive Bits
(4) 1" and (2) 2" #20 Torx Drive Bits
(4) 1" and (2) 2" #25 Torx Drive Bits
(1) 1" #27 Torx Drive Bit
(1) 1" #30 Torx Drive Bit
(1) 1" #40 Torx Drive Bit
(1) 2" #30 Torx Drive Bit
(1) 2-3/8" Quick-Change Magnetic Drive Bit Holder
(1) 5/16" x 1-7/8" Magnetic Nut Setter
(1) 1/4" x 1-7/8" Magnetic Nut Setter