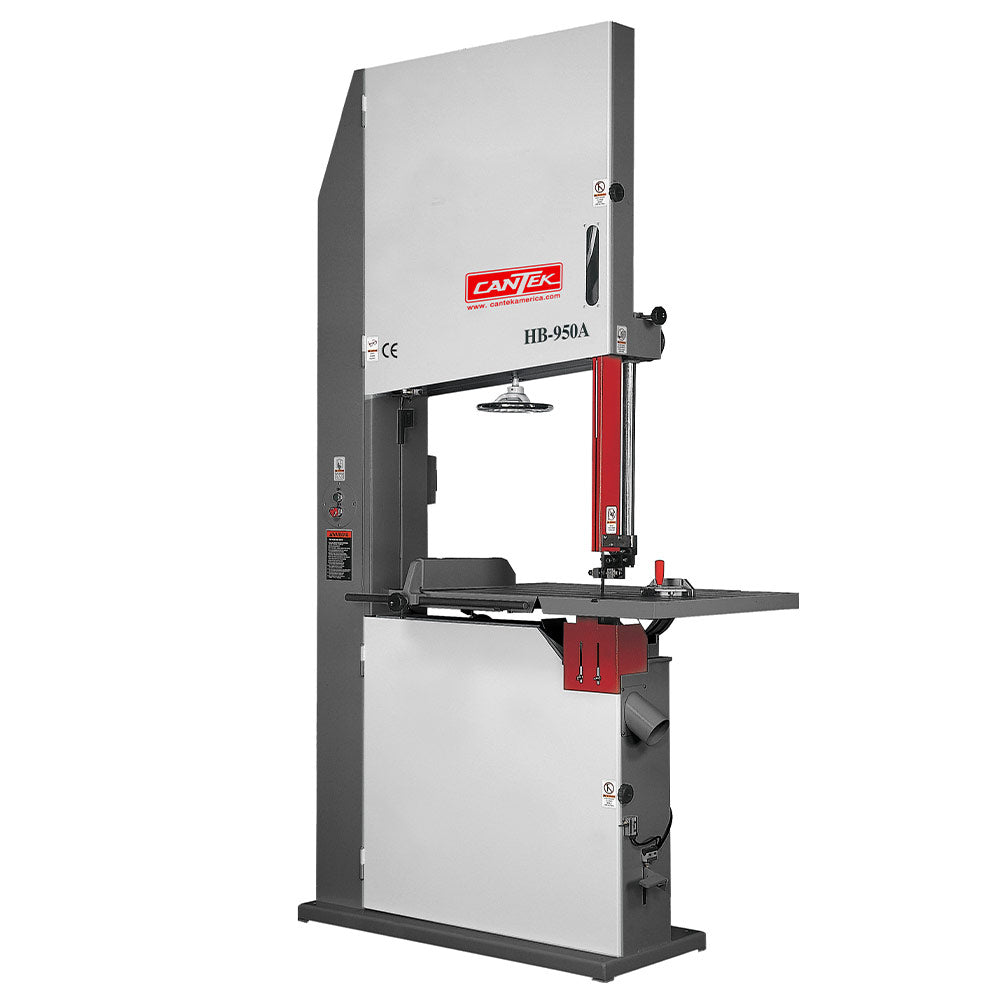 Double click image to zoom in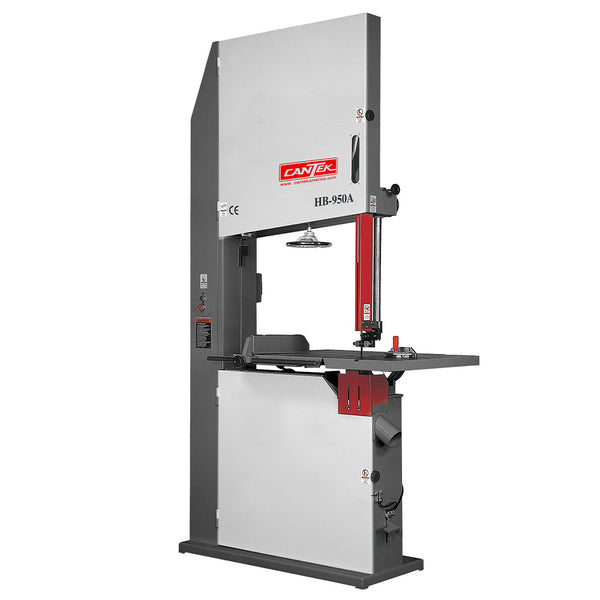 Cantek HB-950A (10hp) 37" Resaw Band Saw (3PH)
Have questions? Give us a call at 260-637-0054.
Our Easy Purchase Guarantee:
No hassle pricing

 

—

 always sold at the manufacturers lowest price! 
No tax outside of Indiana or Washington State.
Freight included in price.*
The Cantek HB950A 2-in-1 Vertical Bandsaw is a heavy duty 37" bandsaw that is built to last. With its industrial cast iron wheel and table assembly it can handle any job.  What makes the HB950A unique is the capacity to run from 1/4" to 2" wide blade allowing you to do intricate curve work as well as resaw timbers to size.
The saw wheels are driven by a powerful 10HP motor allowing you to make your cuts with ease. With a large cutting height capacity under the guide of up to 22" it can also be ideal for cutting materials such as foam. This bandsaw delivers high accuracy for maximum production along with a simple design that assures minimum maintenance.
The upper and lower blade guides with Bakelite blocks on either side of the blade and the roller bearing on the back provide superior control of the blade with reduced friction. This promotes longer blade life. The upper guide can be adjusted in height by rack and pinion. The back guide can be adjusted in depth according to the width of the sawblade being used.
If you need a quote, we would be happy to provide one. Call 260-637-0054 or email sales@oaktreesupplies.com
Note: Cannot ship to Pennsylvania or California.
2-in-1 bandsaw can run up to a 2" wide blade for resawing and down to a ¼" for curve cutting
22" maximum cutting height under the guide
Large capacity of 36-1/2" from the blade to the throat
Cast iron saw wheels are precision machined and laminated with rubber for accurate blade tracking and slippage prevention
Cast iron worktable is precision ground and can tilt to 45o
Blade tension is conveniently adjusted by means of a handwheel and tension is shown by a scale for accurate tension setting.
Heavy gauge steel frame ensures vibration free cutting
Saw Wheel Diameter: 37″
Table size: 45-1/4" x 31-1/2″
Table Tilting: 0°~45°
Throat Capacity: 36-1/2″
Height capacity: 22″
Width of wheel: 2″
Blade speed: 5,500 FPM
Blade length: 259" – 261″
Blade width: 1/4″~2″
Motor: 10hp
Dust hood diameter: Ø4″ * 2
Net weight: 1,584 lbs.
Gross Weight: 2,046 lbs.
Machine Size (L x W x H): 63.75″ x 32.7″ x 113.4″
Packing Size (L x W x H): 117″ x 30″ x 61″

Please note: Items being shipped to extremely remote areas or areas with limited delivery access (such as islands only accessible by ferry) may incur additional shipping or freight fees. If your order requires any additional fees other than what is already included in the price, you will be contacted before those fees are applied and before your item ships. This is rare and will not apply to most orders.