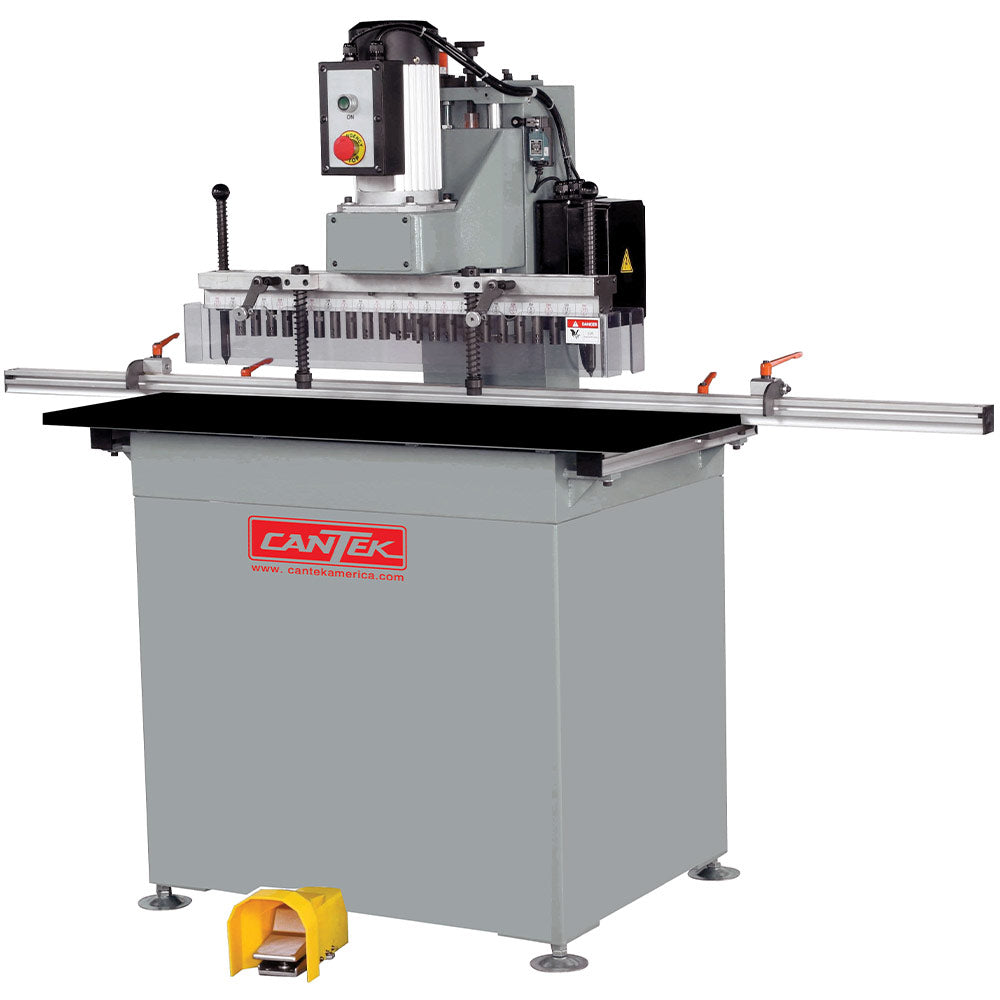 Double click image to zoom in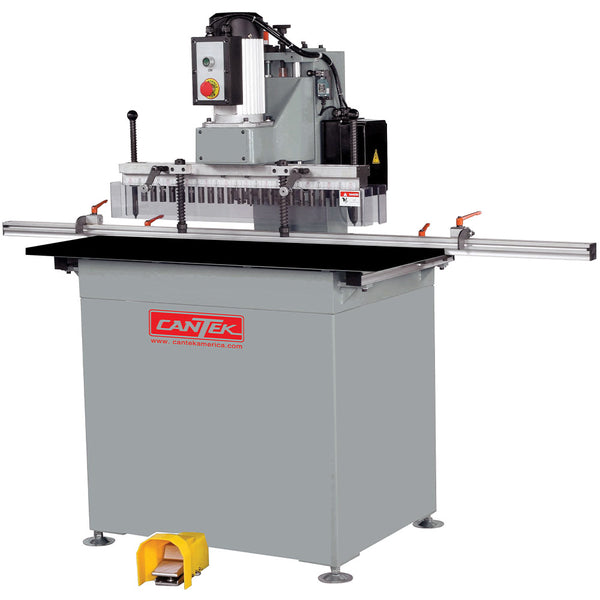 Cantek JB21P 21 Spindle Line Drill - Pneumatic
Have questions? Give us a call at 260-637-0054.
Our Easy Purchase Guarantee:
No hassle pricing

 

—

 always sold at the manufacturers lowest price! 
No tax outside of Indiana or Washington State.
Freight included in price.*
The Cantek JB21P Line Boring Machine is designed to speed up your line drilling operations. It has a total of 21-spindles based on a 32mm centers. The spring-loaded index pin allows for accurate and convenient continuous line drilling operations. The precision rear aluminum fence with linear scale and (2) flip stops allow for precise and convenient setup. 
The complete back fence can be adjusted for various measurements from the edge of the panel to the holes. The precision boring head has interlocking steel gears with alternating spindles and accepts industry standard boring bits with 10mm shank.
The convenient foot pedal initiates the drilling cycle so your hands can quickly adjust the workpiece to the next operation. The drilling unit moves up and down on high carbon anti-friction steel shafts with linear bearing for effortless movement.
If you need a quote, we would be happy to provide one. Call 260-637-0054 or email sales@oaktreesupplies.com
Note: Cannot ship to Pennsylvania or California.
21 spindles driven by steel gears
Pneumatic boring head stroke
Precision mechanical digital readout for desired boring depth
See-through PVC guard to cover boring units for added safety
Spring-loaded part hold down
Precision slide bushing linear bearings
Back fence & cross fence with scale position indicator
2 flip stops on back fence
Number of drilling spindles: 21 (10 LH & 11 RH)
Motor: 2 HP
Distance between spindles: 32mm
Spindle chuck: 10mm
Table size: 43 5/16" x 15 ¾"
Table height from floor: 33 3/8"
Max. depth of stroke: 3-3/8" (85mm)
Max. boring depth from edge: 8"
Back fence: 74 ¾"
Back fence stops: 2 pcs
Cross fence stops: 2 pcs
Air requirement: 70 PSI
Electrics: 230/1/60
Machine dimensions: 75" x 30 ¾" x 58 ¼"
Net weight: 375 lbs.
Shipping dimensions: 43.3" x 33" x 69.3"
Shipping weight: 506 lbs.
Please note: Items being shipped to extremely remote areas or areas with limited delivery access (such as islands only accessible by ferry) may incur additional shipping or freight fees. If your order requires any additional fees other than what is already included in the price, you will be contacted before those fees are applied and before your item ships. This is rare and will not apply to most orders.